To showcase inspirational stories of Indonesian students that aspired to study overseas, the Indonesian Student Association in Osaka Nara has produced a book chronicling students' learning journeys from Indonesia to Osaka University. The book is called Menghidupkan Mimpi ke Negeri Sakura and it is now available in Indonesian bookstores.
Challenges faced by Indonesian students
At Osaka University, many of the Indonesian students are studying under full scholarships. This is because extenuating circumstances mean that a self-financing option would not be possible, in other words, their families lack the financial means to fund international study, and as such, these students rely heavily on financial support for the betterment of their education and improved prospects in life.
Producing the book
To compile the book, Indonesian students and alumni from Osaka University were invited to write a story of their journey in one chapter. When submitted, the 19 stories were combined into an edited volume.
The book, written in the Indonesian language, is now widely distributed for sale in Indonesia. All proceeds from the book will go to a recently established foundation called the "Taiyo no Indonesia Foundation." It aims to offer aid to schools in remote places in Indonesia as well as scholarships for talented high school students that might be to unable to pursue tertiary education when faced with challenges of financial hardship.
From Menghidupkan Mimpi ke Negeri Sakura (English translation of story by Gagus Ketut Sunnardianto) — 
"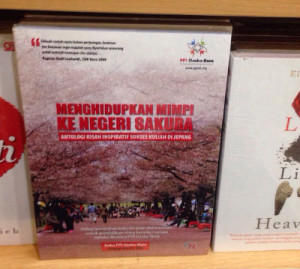 … I then looked around to the people near me. I asked a lecturer, 'How did you become successful, Sir?'
He said, 'I was not born rich. My parents sold pecel (a traditional Indonesian street dish). But through persistence and hard work, I came to be like this. Don't be afraid of failing, child. Keep struggling and surely you will succeed.'"
It became a hit
To the publisher's surprise, the book was met with a good deal of success and it was endorsed by many important people in Indonesia, including the Minister of Research and Education, and it was also featured on the Japanese embassy homepage in Indonesia and cited as a good resource for Indonesian students thinking about studying in Japan. Several foundations in Japan are also keen to participate in the book's mission aims.
Helping other students
Throughout the book, the writers work with one objective in mind; to inspire Indonesian students to show the same application in reaching for their dreams. With hard work and a never-say-die spirit, goals can be reached and doors will open. The positive personal stories share with the reader that despite limitations and challenges, in the pursuit of a world-class education, it is possible to succeed with a PhD from a prestigious institution such as Osaka University.
From Menghidupkan Mimpi ke Negeri Sakura (English translation of story by Narila Mutia Nasir) —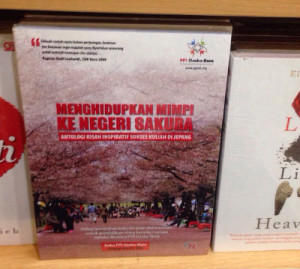 It had occurred to me to try for a scholarship to continue my graduate studies abroad, but I received no support from my father, mother, or older sibling. They firmly rejected the idea.
My late father used to say, "You may study abroad when you are already married." The response from my family led me to keep these dreams to myself.
Although it seemed unlikely, Allah already has plans for each of our lives. And it was fate that brought me to Osaka University. 
What's next?
At this time, the English translation of the book is now ongoing and we are hoping it will be completed in March 2015. 
We would like to kindly ask you to take a moment to watch the introductory video about this book (Indonesian and Japanese subtitles):
To find out more about the project visit the website (Indonesian only, English and Japanese coming soon):

Please drop by the project's Facebook page and say hello: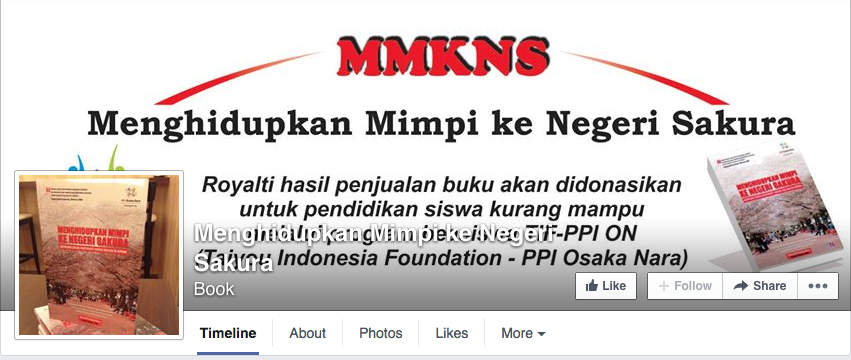 If you are interested in supporting the mission of the Taiyo no Indonesia foundation or have interest in the content of this book and wish to be notified when the English imprint is available, please contact us through the CAREN
contact form
.