24 December 2014: News of upcoming ASEAN-Japan Special Symposium in Singapore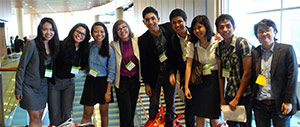 This symposium addresses the challenges and opportunities for Japanese universities and ASEAN universities in collaborating with Japanese businesses to establish a unique network of human resource development that combines the growing collaborative ties between Osaka University and ASEAN universities in education and research with the Japanese companies' global recruitment strategy.
Find out more HERE
25 November 2014: Singing of the Agreement on International Double Doctorate Program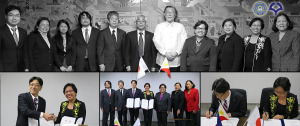 CAREN is delighted to announce the signing of the Agreement on International Double Doctorate Program between Graduate School of Engineering, Osaka University, and Collage of Graduate Studies and Teacher Education Research, Philippine Normal University, the Philippines.  
18 November 2014: Excitement about our upcoming double degree program in Biotechnology with Thailand's Mahidol University, Faculty of Science—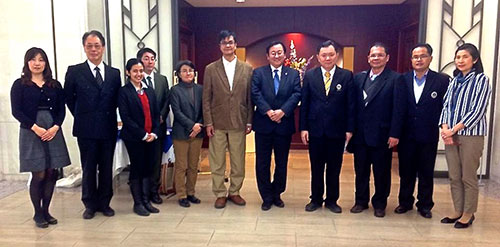 CAREN received a visit from Vice President of Mahidol University Prof. Surakit Nathisuwan and his colleagues from the Faculty of Sciences. It was truly a pleasure to welcome them in Osaka University.
The photo, taken at Osaka University's Suita Campus, is with Vice Presi

dent of OU Prof. Hoshino, ICBiotech director Prof. Nihira, Biotechnology professor Prof. Muranaka and CAREN team Prof. Fujita, Prof. Satoh, Dr. Sastia, and Ms. Nojiri. 
12 November 2014: New Quantum Engineering Design Course (QEDC) Student Video
Meet some of our students on the QEDC Course.
The "Quantum Engineering Design Course" is a special graduate school program that aims to equip young scientists with cutting edge research skills necessary to anticipate and adapt to the ever-changing needs of society equipped with a broad perspective of Science, Technology, and Society.
16 October 2014: Team CAREN visits UGM Indonesia—

Members of the CAREN team from Osaka University visited UGM in Indonesia today.
The group met with the Vice Rector of UGM, Prof. Dwikorita, and the Deans or Vice Deans of all representative graduate schools, as well as students who have interest to study at Osaka University. Thank you UGM for making us so welcome! 
14 October 2014: New SISC & IPC Student Video
Meet some of the students on the Special Integrated Science Course (SISC) and the International Physics Course (IPC) studying in English at Osaka University. Find out about student life, university facilities, and the unique aspects of these courses.
08 October 2014: CAREN team members visit Indonesia—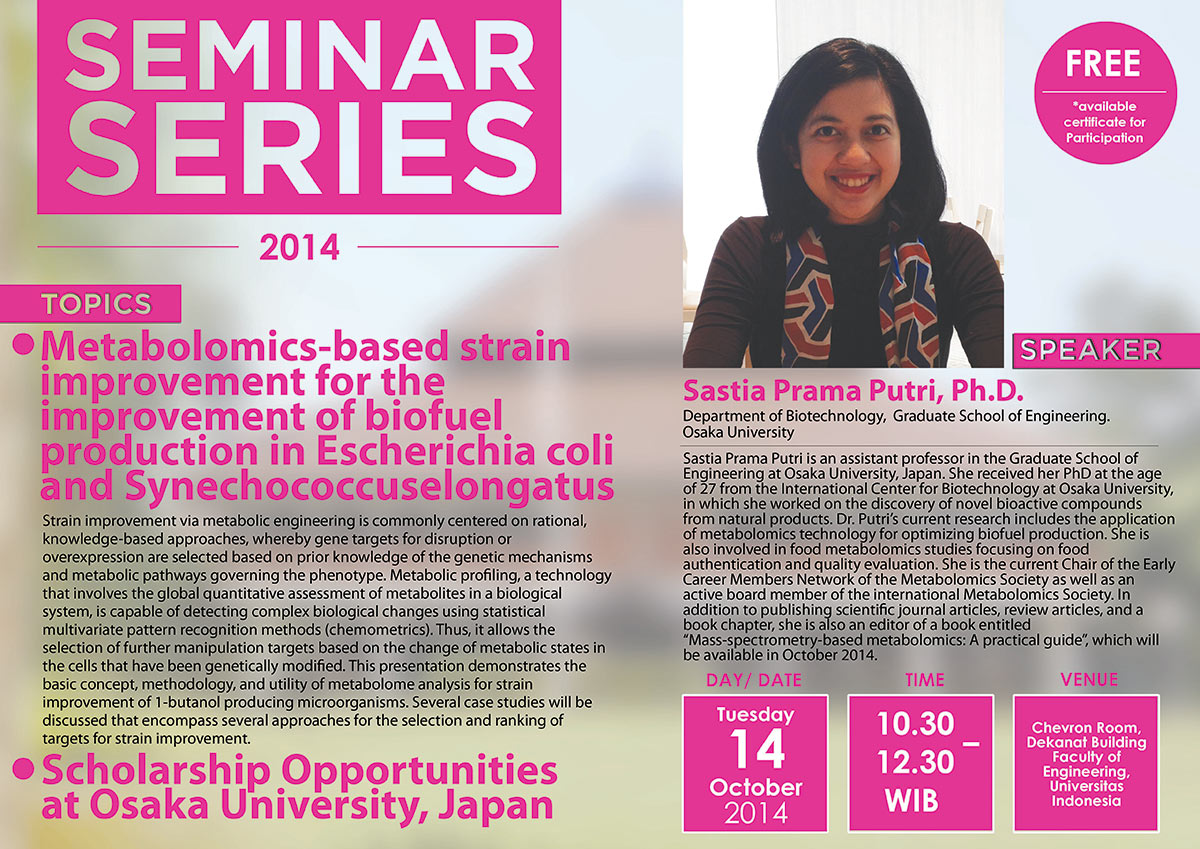 Osaka University's CAREN team members will visit Indonesia in October.
They will visit four universities to talk about studying at Osaka, specifically, foreign students joining Science and Engineering programs in English at Osaka University. The schedule is as follows:
October 13: Institut Pertanian Bogor (Bogor Agricultural University)
October 14: Universitas Indonesia (University of Indonesia)
October 16: Universitas Gadjah Mada (Gadjah Mada University)
October 20-21: Institut Teknologi Bandung (Bandung Institute of Technology).
Osaka University's Dr Sastia Prama Putri will present her research work at the Faculty of Engineering, University of Indonesia (see poster for more information). Her talk will be followed by some general information about Osaka University and the scholarships that are available from her department.
03 August 2014: Launch of CAREN Flickr pages—

CAREN how has it own Flickr pages. All of the photos from CAREN — around the campus, professors, students and labs — will be regularly uploaded to Flickr. Drop by and get a taste of Osaka University!
01 August 2014: Launch of CAREN Facebook page—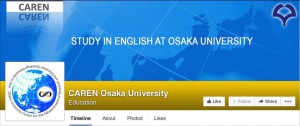 The official CAREN Facebook page has been launched. Please have a look, friend us, and keep up to date with snippets of news, photos, and all the latest CAREN happenings. Don't forget to like our page!
01 August 2014: Launch of CAREN Twitter page—

The official CAREN Twitter is now open. Please follow us if you'd like to keep up to date with the latest tweets from the CAREN team.