Tell us something about you. Where are you from, what is your background?

My name is Wu Yuhao. I'm from Sichuan Province, China. My English nickname is Frank. I was born in Chengdu city, the capital of the province; it's in the south west of China. Since the weather there is very wet, people in my hometown like spicy food very much, (people say that spicy food can eliminate the "wet things" from our body and keep us healthy).
I grew up in the countryside and the world at that time seemed quite small. I would hardly hear anything from outside my country and I never believed that one day that I would be studying abroad. Anyway I am now studying at the Graduate School of Information Science and Technology, Osaka University; it's a long way from my small childhood world.
What about your academic interests?
Around the age of 11, I first had the chance to learn some programming in our school computer class, and since then I've been absolutely fascinated by it. A few years later, I was admitted to the School of Software Engineering, Tongji University in Shanghai. Programming is fascinating. The moment that you create a program yourself that can help solve a problem automatically is so joyful it can barely be expressed in words. Personally, I am a little lazy and I don't like to repeat tedious tasks by hand over and over again. So I am always thinking of tasks that will be better handled with a piece of code, it is wonderful to let the program do the work for me.
After graduating from my university I found a job in a game company as a developer. After working for two years and being involved in several projects, I realized the importance of code refactoring. Code refactoring is a kind of technique to reconstruct the compute code and make it easier to understand and for further maintenance. However, although code refactoring is very helpful, in the real world it is not applied as much as we might expect. One reason is that manual refactoring is time-consuming, tedious and error-prone. Thus, an automated code-refactoring tool is needed to solve this problem. Given this interest, I came to Osaka University and found an excellent environment for me to do research in this area.
My previous university is was Tongji University. It is located in Shanghai, the financial center of China. Tongji has a relatively long history and has several beautiful campuses. It has a huge student body with over 50,000 undergraduate and graduate students. Tongii University was established in 1907 and is one of the most prestigious universities in China. My life there was very happy and exciting. I felt lucky that I met with good teachers and classmates. We were always setting up all kinds of interesting competitions and get-togethers. It was one of the happiest periods I've experienced.
Say something about your present study and future plans
As I said before, I'm very interested in code refactoring and in its automation. In addition to this, I'm currently working on open source licenses. Licensing of open source software is a way to protect the legal rights of the author(s) and to set the permission framework for users. Licensing details are usually contained in the header part of the source code file. There are many existing open source licenses (such as GPL, Apache etc.), and some of these are incompatible with each other. Part of my current work is to detect the inconsistency of licenses among open source projects, and to try to reveal the underlying problem in licensing usage. I'll try to analyze more open source projects and gather more valuable data for future work. As I continue with this, I'll still work hard to find an efficient way to automate the process of code refactoring.
Could you tell us about your experience at Osaka University, how about the lifestyle in Japan?
This is a simple answer; my life here, study and lifestyle, is new and exciting. Things are good. When I was accepted on the program, I was told that I needn't worry too much about Japanese as the program is conducted in English. Thanks to the encouragement from my professor, Inoue-sensei, the teachers and students use lots of English. I am able to follow lectures and keep up with campus life quite fine without good Japanese language skills. The same might not be said outside the campus however.
Before coming to Japan I learned some Japanese, but it's not good enough for daily communication. Dealing with a lot of things in my daily life is tricky and I often face these alone. In these situations, I often have to speak Japanese, though it's quite clumsy, or hope that the other party might understand English. But despite the challenges, the good thing is that I can always get help from my classmates or the laboratory secretary if needed. The last time I tried to look for a new home, they taught me how to express myself in Japanese and even set up a small rehearsal for me! Although these things seemed hard for me at first, every time I manage something on my own it makes me feel proud.
As a graduate student, like others, money is a bit tight; basically, I get financial support from my parents. I've applied for a Japanese government scholarship and am waiting in the queue. I've also taken a part time job as web admin in my lab so that I can help reduce the burden on my parents.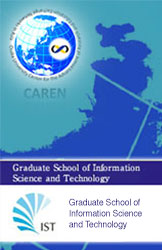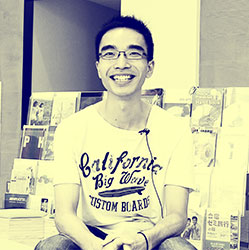 Frank is a student at the Graduate School of Information Science and Technology, Osaka University.

Find out more about the program here: http://www.ist.osaka-u.ac.jp/english/